NOVEMBER TIP OF THE MONTH

New Tips and Tricks added monthly!

CREATE A FAVORITES BAR

Are you like me and have about twenty to thirty things in your favorites menu, but only use 8 on a regular basis? If so, this tip is for you!

You can put the sites you visit most in the LINKS or FAVORITES Bar at the top of your browser window.

In order to move old favorites to this bar click on the Favorites drop down menu. Go to Organize Favorites. Some of you may have a LINKS folder, some of you may have a FAVORITES BAR folder. In the window that appears you can move the sites in your favorites menu to this folder called Links or Favorites Bar.

Before doing this, let's get rid of all the sites you don't want in the Links folder that Microsoft has so nicely given us. Click on the Links (or Favorites) Bar folder to open it. Simply right click on the shortcut you want to remove and select Delete in the menu that pops-up. If you have a Favorites Bar in this window, just click on the shortcuts to highlight, and click on the REMOVE button below. Anything you want to save from this folder you can move using the following method:

Now that we have the folder cleared of unwanted shortcuts we can put what we want in it. Find a listed internet site that you want to have in the links bar. Click and drag it to the Links folder. Repeat this for all shortcuts you want in the links bar. Any link can be moved by dragging it to the proper destination.
OK, so now you just found a cool site, like www.luvtolearninc.com, and you want to add it to your links bar, but for some crazy reason, it's not in your favorites menu yet. Go to Favorites Menu and click Add to Favorites just like always, or Add To Favorites Bar. However, when the Add to Favorites window appears, click the Links folder before clicking OK. That's it!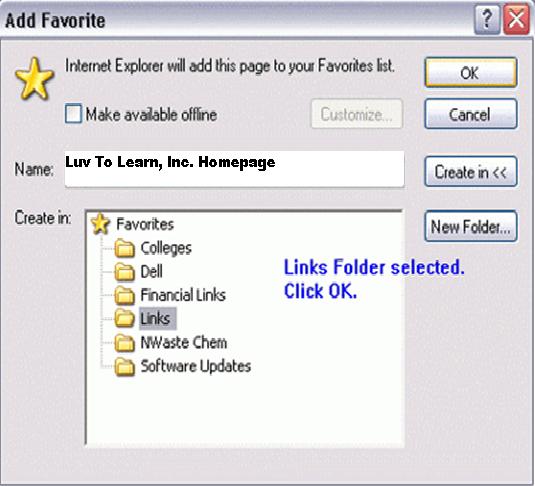 Also, if the LINKS (or FAVORITES) BAR is not displayed, you can easily display it. First, right click anywhere in the grey area at the top of your page. In the menu that appears, make sure LINKS or FAVORITES BAR has a check next to it. If you still can't see the bar, look for the word "Links" or "Favorites" somewhere in the toolbar. When you see it, click on the letters and drag it below the address bar and you'll see the toolbar now. If you are unable to drag it, RIGHT click again in the grey area at the top of your page, and uncheck "Lock the Toolbars",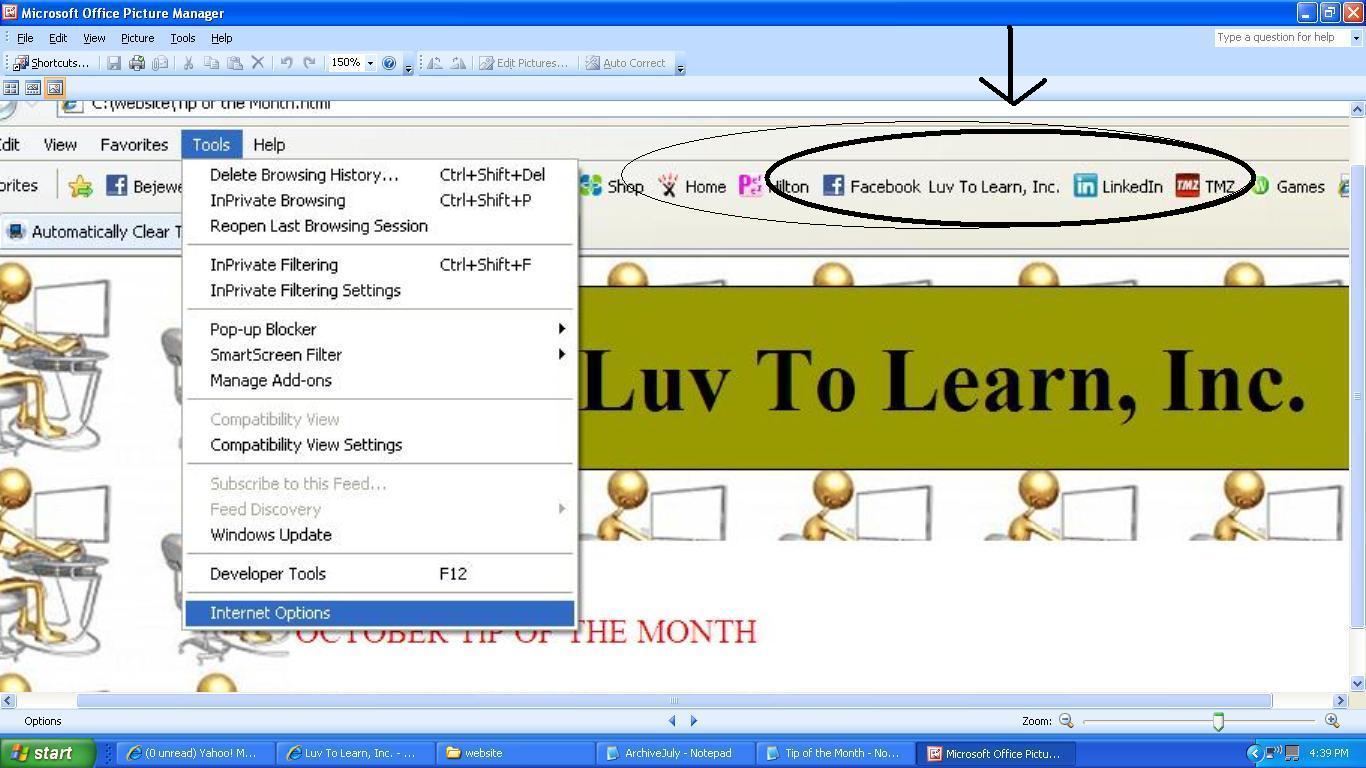 Then try again. Happy surfing!



Home    Projects    Training Consultants    News

Tip of the Month Archive

Email: Info@luvtolearninc.com